It is quite rare to get a combination of a motorbike, skateboard, bicycle and electric bicycle in a single-vehicle. This was when electric scooter got its hybrid form from the invention & alteration of the existing ones. The SLA batteries driven scooters were likely to create a hazard in different dimensions. So, the amalgamation of significant upgrades in Lithium-ion battery came with better electronics, great capacity, and high speed.
Things to know!
The
fastest electric scooter 2019
is composed of so many things. First and foremost, it is important for all of you know the different parts associated with an electric scooter.
Motor:
Like the heart is the hub to live for a human body, in the same way, the motor is the real heart of the vehicle. It gives the strength and power factor to the wheels of the electric scooter. The engine can be mounted to the exterior side of the wheels or inside a rim called the hub motor. The hub motors are held in greater demand in terms of time, power and torque. It is more durable than any other alternative as it is protected from splashes.
Motherboard:
To coordinate with the functional parts of the electric scooter, you need the motherboard. It is the center of connection for all such transfers and functionality. It serves to be the center of all actions that you are going to operate with.
Battery:
Like the muscles in your body, the battery acts as a muscle in the electric scooter. Your vehicle will take the required amount of energy from the battery to regulate. The batteries of electric scooters are lithium-based and that makes them more compact and powerful.
Frame:
The frame of the electric scooter is like a skeleton that can withstand the weight. The frame is foldable, and this makes it portable to take it in a metro or train or bus. This ensures easy storage too.
Throttle:
The throttle is the connective medium that sends and speeds up the signal to the motherboard. If you want to speed up the scooter, you can open the throttle and pull it towards you gradually.
Brake:
The brakes are attached and wired to the wheels so that when the brakes are applied, the wires will generate friction to decelerate, giving you the option to slow down.
Some of the advanced Electric Scooters!
Different types of electric scooters have been launched in 2019. To start with electric kick scooters, electric bikes, electric motorcycles, electric tricycle, electric mobility scooter, and Electric Go Karts are the ones that deserve a special mention.
The best scooters are generally not the fastest scooters. But then if you want to take on the speed list, here is a list that will keep you ahead in the electric scooter game. They have been the favorite for many people since their commencement and there is not a single soul on Earth who did not feel satisfied after riding these scooters. So, let us take a look at them without wasting any more time.
1.Currus NF Electric Scooter
In case, you are a fan of transformers, you would definitely love these e-scooters which comes with a sturdy and super stable structure. It has a box-style design and a broad base which gives it a bulky look. Like a rocket, it would cut through the air, all thanks to its aerodynamic structure. It has been built with various features which starts from super strong suspension to EYE LED.
Its great speed comes from the BLDC dual-hub motor of 3600W. With a single charge, you can ride it for a distance of a 62miles (100km) to 124miles (200 km) straight and up to 70kmph or 43mph which is its maximum speed. The brake system is immensely advanced which allows the scooters to stop within seconds. It also comes with an amazing dashboard and dual hydraulic suspension.
2.DualtronSpider Limited Electric Scooter
This e-scooter comes with an amazing amalgamation of durability, weight, speed, and range. It is a super lightweight e-scooter which weighs only 21.3kgs or 41llbs can give you enthralling riding experience.
Its maximum speed is 65kmph or 40mph and comes in three modes, Turbo, Dual, and Mode 3. It hasdual 3000W motors respectively of brushless DC. It has a 60V 24.5amp LG MJ1 battery which can run for upto 1470 hours.
3.DualtronThunder Electric Scooter byMinimotors
Offering herculean power of 5400W, it can pick up a lightning speed of 80/kmph(49miles). 120kg(264llbs) is its maximum load capacity and the option of choosing single or dual motors is also available to provide a thrilling experience. It has a lithium-ion 60V, 35Ah battery system which offers it exceptional power even though they are running on zero gasoline.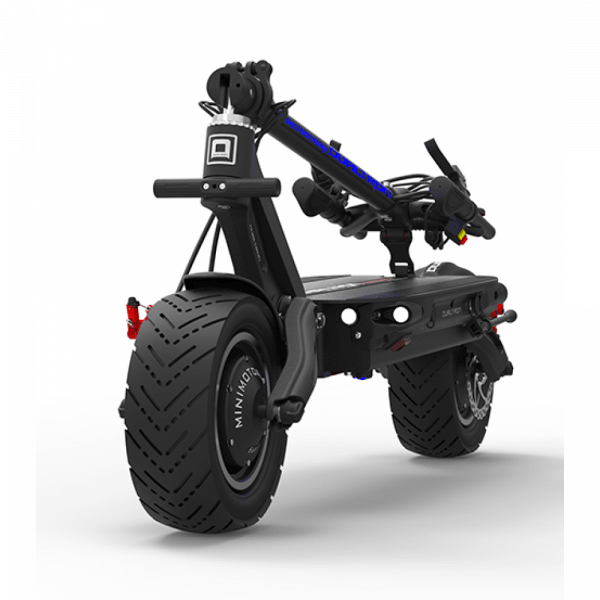 It can travel straight for up to 74miles (120 kms) when it is fully charged. It can also get charged superfast within only five hours when it is connected to a quick charger of 6.5A. This trailblazing e-scooter sports a fifteen-step adjustable rubber suspension along with five types of rubber cartridge plan which delivers exceptional riding comfort. It also comes with an ultra-wide 11-inch tubeless tire which provides wider surfaced area both at the back and at the front.
There are various online sources from where you can buy all these amazing scooters. They are reliable and they are the next generation travel solutions. Be it long distance or short, you can travel anywhere with these e-scooters without causing any harm to the environment. But always make sure that you check out all the specifications and the features first before you settle down with a specific model.
Choosing the right model gets easier when you are buying from trustworthy sites like
Freemotion Shop
that have a vast experience in this industry and offer nothing but the best make and models to their customers!