DUALTRON ULTRA
ELECTRIC SCOOTER
No-brainer choice for off-road adventure rides ! Eccentric array of features - PU suspension system, broad tires, forged aluminum chassis and the durable handle, you have the hots for.
Lighting
Dual LED headlight, rear lights, and brake lights for the safe journey towards infinity. LED display at the front of the handle perks up the journey.
Suspension
Proprietary cantilevered, high-density PU suspension on the front and rear wheel for ultra comfort, durability and high suspension bearing strength on any turf.
Brakes
Combo of Dual disk and electric brakes prevents locking on greasy and wet surfaces. Regenerative braking summing up safety on long navigations.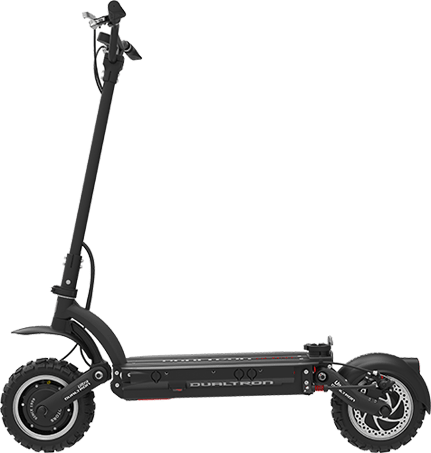 Motor
BLDC dual hub motor with herculean 5400 W power for 80 km/hr speed and 120 kg max load capacity on any terrain, rocky or unpaved. 3-step speed options for unfettered motion you fall for.
Battery
2072 Wh battery for the non-stop exploration at 80 km/hr (50 mph). Spare less than 5 hours to fully charge your battery with a 6.5A charger.
Tires
11-inch ultra wide tire for the balanced and stiff grip on sharp turns and hilly terrains.