InMotion is a fast-moving and leading electric mobility solution provider from China who is also the winner of the prestigious RoboCup 2007. The team won the RoboCup on the basis of their skilled expertise in vehicle dynamics and robotics, and since then they haven't seen back in endeavors.
Currently, the Inmotion headquarters is situated in Shenzen, China, and has been completely focused on building next-gen sensor-based personal mobility solutions.
The Inmotion is also dedicated to offering future-proof short-distance traveling and it is evident with their latest and greatest innovation in the electric unicycling offerings.
Today, we are going to write down all the best-in-class Inmotion electric unicycles available for anyone who wishes to ride in style. Below are the details of all Inmotion electric unicycles:
INMOTION V10F ELECTRIC UNICYCLE
Inmotion V10F can be called the superb electric unicycle with all the feature-packed solutions one would want anytime while he is riding. The electric unicycle from Inmotion V10F is fitted with a capable 2000W motor which is backed up with a 960W battery making it a good spin out on the streets. To note, that is almost double the power from most of the electric unicycles in this category.
This motor-battery combination is able to hold a mighty 260 pounds (117kg) and with that, it can hover at a similar nice pace of 25 mph (40km/hr). Isn't it good to roam around the city and that too a far-sighted 62 miles on a single charge, we mean you are absolutely free from range anxiety.
The tires of V10F are 2.5 inches wide to handle the ruggedness of roads and to give proper balance to the rider. Also, it climbs steep angles on mountains with its easy-to-navigate 30-degree capability while the V10F is itself built on a high frame to take on rough terrains. And don't forget the built-in music connectivity to tackle any boredom while riding, as the Inmotion V10F is fitted with high-bass premium Bluetooth speakers.
INMOTION V11 ELECTRIC UNICYCLE
Never worry about a single day of your personal commuting once you get the Inmotion InMotion V11. Yes, we absolutely back up this due to its real feel power, and style quotient on display. 
The InMotion V11 will be the most modern and advanced electric unicycle in your garage for sure with its robotic looks and supreme features. The class-leading 2200-watt motor churning out a wind swaying 34mph (55km/hr) speed, there is sure to brag about it in the friend circle.
Also, the 1500Wh (1.5kWh) battery is suitable for long adventures giving a wholesome 75 miles (120 km) range on a single charge, so, just zoom around the city as much as you can stand on the pedals.
Also, there is a tech-worthy modal cooling system, convection-conduction-fan to be exact, making it by far the coolest electric unicycle in the league. And if one has to pick it up and walk, you need at least a fair muscle strength to roam with 60lbs/27 kg of unicycle.
Not to worry about potholes or small cracks on roads as the V11 is fitted with the world's first air-spring pedal suspension to safeguard riders from sudden jerks. Other than that, it features an anti-spin motor kill switch built-in within the handle. 
INMOTION V8 ELECTRIC UNICYCLE
Is it that you are searching for a better electric unicycle on a budget? Look no further as Inmotion V8 electric unicycle is that one. The Inmotion V11 is fitted with a decent 800W motor which can give a pace of around 20mph to the rider. Also, expect a good 30-mile range from a single charge which is sufficient for daily fixed commutes. 
The Inmotion V8 is able to take you on rough terrains as well with its high grip tire and better overall height. Also, there is no worry about splashing once or two in water puddles with its water-resistant coating. Coming to the safety features of Inmotion V8, it has an LED lighting setup to flash in the dark which can be customized as per the choice.
The overall weight of Inmotion V8 is around 200 pounds which might not be suitable for carrying it around from your hands but still for a short distance you are good to go.
Now a great feature to brag about is the dedicated mobile app which can hold your unicycle speed as per the input figures and along with that, there is an integrated Bluetooth speaker for the ride to enjoy.
INMOTION V8F ELECTRIC UNICYCLE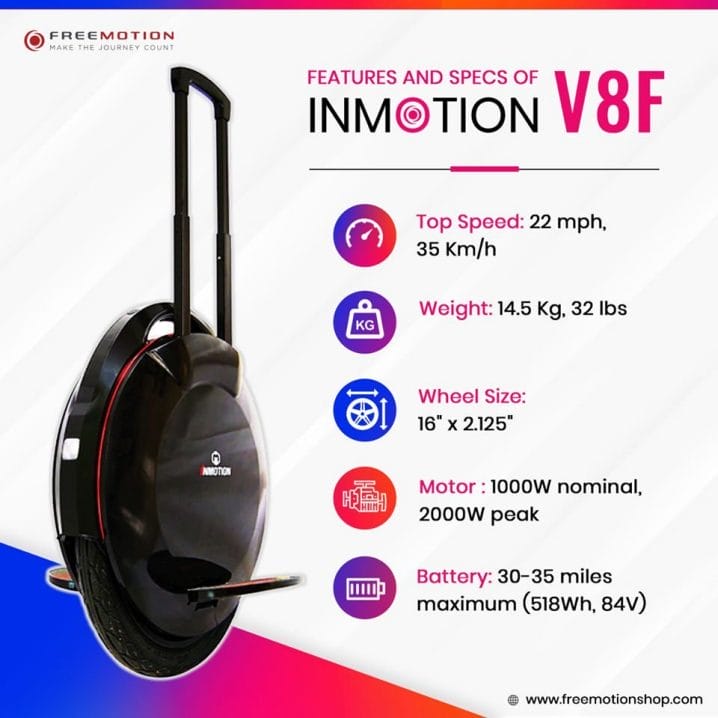 Finally, we have brought up the major version of Inmotion V8 i.e. V8F which is a sized-up edition. It is much cooler and slimmer than most of the electric unicycles on the market. The Inmotion has a mind-blowing 1000W motor turning the wheels at a superb 80NM torque, which is at par with a medium-paced sports bike.
Along with the battery size of 518Wh, there will never be a chance of the battery running out, unless you are on the highway. Inmotion V8F has a pretty good range of 30-35 miles (55km) on a single charge.
However, to ride an electric unicycle, 21mph is sufficient to gain balance each and every time and that's how the V8F is able to achieve the speed of 35km/h.
The speed is also achieved with the wide 16-inch tires and RGB lights for night-style rides along with the front beaming lights and battery display.
Conclusion:
So, finally, we have listed all the top electric unicycles from the Inmotion brand which will surely impress those who will have a sneak peek at them. Have a personal visit to the retail store for a demo or you can contact us for further details
Do you want to read more about the best Inmotion electric unicycles? Check out these articles.