Electric scooters are an inexpensive and eco-friendly e-mobility solution that is transforming the landscape of urban transportation by making city travel safe and convenient.
The Blade 10 Pro limited edition is an innovatively designed electric scooter from Eonmotors, a key player in the performance scooter market for several years. This time, the company has gone all out to deliver a scooter that exceeds every customer's expectations, with incredible power, stellar performance, and a compact yet rugged design.
Blade 10 Pro is equipped with best-in-class features that include an eye-catching design, a highly efficient battery, a powerful motor, a sturdy frame, adjustable hydraulic suspension, and astonishing hill-climbing ability.
Salient features of Blade 10 Pro Limited Edition:
Motor – 1200Wx2 BLDC dual motor
Tire – 10*3.0 CST street tire
Wheelbase – 115mm
Battery – 60V 28AH LG battery
Max speed – 75km/h – 47Mph
Max range – 90Km – 60 Miles
Climbing ability – 40 degree
Controller – 60V 30A x 2
Light – front/side LED/rear/turning
Max Load – 330 lbs, 150 kg
Weight – 35 Kg, 77 Lbs
Brake – Nutt hydraulic brakes
Suspension – EXA adjustable hydraulic suspension
Performance and portability:
Blade 10 Pro comes with an incredibly powerful dual-motor setup, with each motor producing a staggering output of 1200W. Collectively these motors can generate a whopping 2400W of power, making Blade 10 Pro one of the fastest electric scooters on the market, reaching a top speed of 75 Km/h (47MPH).
The Blade 10 Pro is an ideal adult e-scooter due to its lightweight and impressive load-carrying capabilities. The kick scooter weighs just 35 kg (77 lbs) and can carry a maximum load of 150kg (330 lbs). Since the scooter is so light and nimble, it's astoundingly easy to handle and maneuver on packed urban streets.
The Blade 10 Pro limited edition boasts exceptional hill-climbing abilities. It can ascend a 40-degree incline in a heartbeat while maintaining a constant pace. The Blade 10 Pro also offers unrivaled portability, making it extremely easy for you to transport the scooter from one location to another.
Battery life and range:
In terms of battery life and range, the Blade 10 Pro is a chart-topper. The scooter is fitted with a high-quality 60V 28AH LG battery pack that delivers an awe-inspiring range of 90 kilometers (60 miles) on a single charge. This jaw-dropping range allows the users to enjoy far longer rides without constantly worrying about the battery power.
Suspension:
A smooth suspension is essential for better shock absorption and a comfortable riding experience. The Blade 10 Pro features EXA adjustable hydraulic suspension that is equally optimal for city rides, speed runs, off-roading, and uneven surfaces.
Tires:
The Blade 10 Pro features 10″ high and 3.0″ wide CST street tires. Combined with top-notch suspension, these tires provide enhanced grip, exceptional shock absorption, and improved road stability.
Braking:
At a top speed of 75km/h, the braking capabilities of an electric scooter become incredibly crucial. That's why Nutt hydraulic brakes are added to Blade 10 Pro to help you stop at a dime. The Nutt hydraulic braking system also allows you to adjust the brake intensity according to your needs, making it easier for you to select between soft and hard braking options.
Color options:
Black is the most prevalent color choice when it comes to electric scooters. Blade 10 Pro, on the other hand, is available in a variety of attractive and vibrant colors. To stand out from the crowd, you can choose from red, blue, green, black, titanium, and gold color options.
Design and build:
The Blade 10 Pro has an entirely unique design and a sturdy platform that is both robust and lightweight. The 650mm long handlebar adds to the riding comfort and improves the handling of the electric scooter. The Blade 10 Pro also has an adjustable stem that allows you to set the ride height according to your needs. A spacious deck and a generous wheelbase of 115mm ensure a relaxing ride, even on longer journeys.
The following frame dimensions make Blade 10 Pro one of the most refined and compact scooters in its class.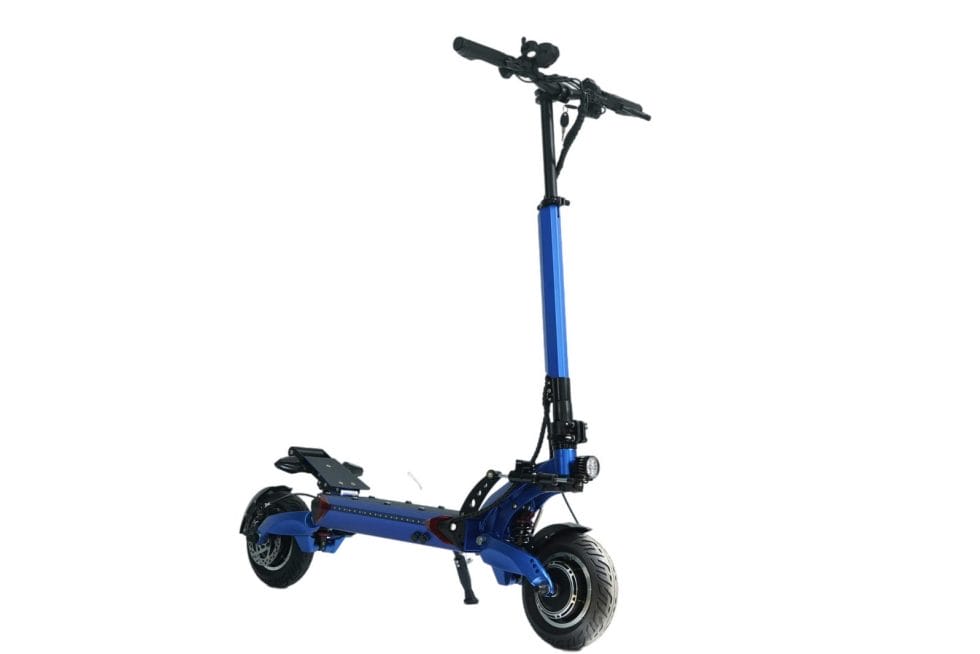 Open size (mm) L1260/H1280/W605
Folding size (mm) L1260/H480/W260
Packing size (mm) 1360x290x620
The kick scooter is fitted with a CNC kickstand to enhance the overall functionality. A steering damper is also installed to prevent the rider from oversteering, resulting in safer rides at higher speeds. A front and rear light, LED strips on both sides and turn signals on the back round out the scooter's incredible feature list.
Is Blade 10 Pro electric scooter a good buy? The Blade 10 Pro is an excellent adult e-scooter for short trips and city commuting. The electric scooter is available at FREEMOTION for 2499$ (C$ 3,199), which appears to be a steal when considering its long list of extraordinary features.