InMotionwas formed by a group of technical experts in vehicle dynamics and robotics. These days, InMotionhas been focusing on the development of sensor-controlled vehicles and promoting the use of short-distance eco-friendly transportation products like electric scooters and unicycles. These are not just eco-friendly, but also compact, lightweight and extremely portable, ideal for regular use.
INMOTION V8
InMotion V8 is a masterpiece when it comes to intelligent transportation. It is loaded with futuristic technology and advanced features that make it the best unicycle of 2021.
Features:
Portable: V8 can help you reach your destination twice as fast,as compared to normal public transportation. Even if you need to use a public transport, it will not be a problem because this electric unicycle is small, compact and extremely portable. You can carry it anywhere with you very easily.
Motor: The InMotion V8 comes with an extremely powerful motor of 800W that lets you to ride on for 30 miles (48kms)with one single charge only. This is one of the most unique features of this unicycle.
Comfort: This unicycle lets you travel with ease even on the uneven surfaces. You can easily travel on the roads and off the roads without experiencing any bumps.
Water-resistant and LED lighting: It is water resistant and can resist rainfall and muddy water too. It also comes with customizable LED lighting effects that makes your ride safer and gives an edge to your ride.
Stability: The V8 is extremely stable and can easily support weight up to 250 pounds(113kgs). You can ride at the top speed or at steep angles without much worry with this unicycle.
InMotion L8F
The InMotion L8F Electric scooteris one of the best electric scooters available in the market with a sleek design and amazing features. This high-tech scooter has an intuitive design and is extremely rider-friendly.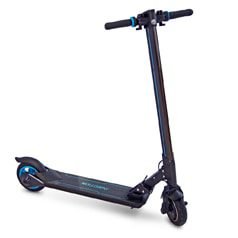 Features:
Safety: The right handlebarhas the throttle, while the left one has the brakewhich has a quick response due to the physical brakes on the rear wheel and electronic ones in the front.
Power: It comes with an automatic power-on switch that takes over when the sliding speed reaches 1.86mph (3km/Hr). It automatically powers down when not used for 30 seconds, saving battery charge.
Lighting: LED indicators are present on both handles. It also includes futuristic body lights which can be customizedalong with an extremely powerful headlight. Safety and visibility are enhanced due to warning taillights on both sides of the rear wheel.
Portable: It is not just eye-catching and efficient but also lightweight and portable. The body and stem can be folded together very easily.
Power: It has an exceptional performance. It needs 2.5 hours to be fully charged. It comes with a 3GB 250W motor that ensures a stable power supply along with comfortable riding experience.

Thus InMotion has some of the best electric scooters and unicycles to offer, to make your daily commuting simpler and easy. Log in to Freemotion and bring home any one of these two amazing models today!
Do you want to read more about the Best Electric Scooter and Unicycle of 2021? Check out these articles.