Electric Unicycles are one of the trendiest and most stylish means of personal transportation today. They are compact, lightweight, and super fun to ride.
When buying an electric unicycle, you have to consider a number of things, including the design, power/motor, battery life, control & stability, and cost, among others. Your focus should be on choosing a unicycle that can offer optimum power and mileage and still fit your budget.
Today, as the demand for and competition in the electric vehicle industry is increasing, brands have to regularly introduce newer, more innovative options to keep meeting customers' expectations. Electric Unicycles are one of the latest trends in the electric vehicle industry.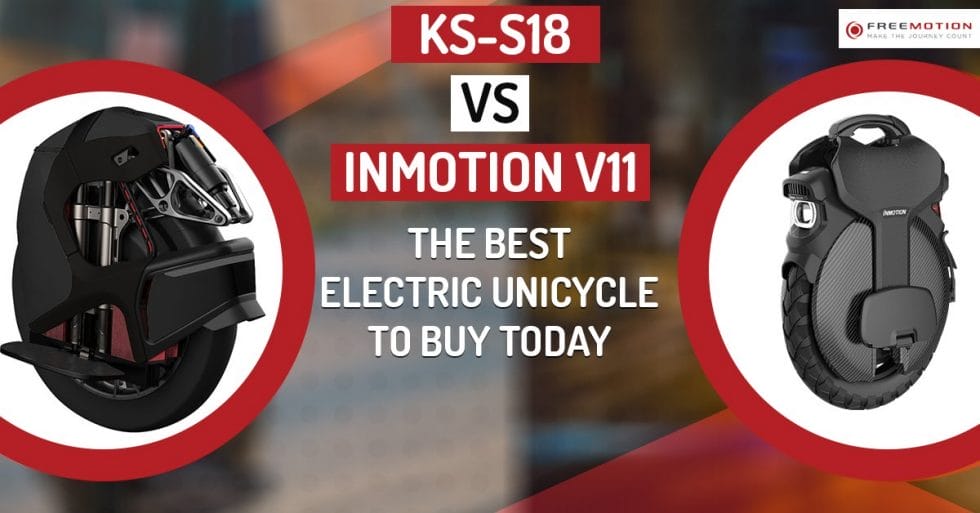 When it comes to buying an electric unicycle, you only want the best. Keeping that in mind, today we talk about two of the newest and most advanced electric unicycles in the market and compare them in terms of features, design, and power, among other things, so as to make it easy for you to choose and buy the right one.
Inmotion V11: An Introduction
Touted as the "King of Off-road" because of its extraordinary off-road capabilities, the Inmotion V11 is the latest offering in the EUC segment by the China-based electric mobility brand Inmotion.
The Inmotion V11 features a more stylish (yet simplistic) design, a high-powered motor, and better security features than its predecessors (V10 and V10F).
The design is the most outstanding part of this electric vehicle. It ensures the rider's safety when lifting up the wheel. It also comes with a press cutoff feature that will cut the power off with one simple press.

To further strengthen the security factor, the device is equipped with extra-large, anti-slippery sandpaper pedals to ensure improved handling and control in poor road conditions and a more steady riding experience for you.
The unicycle also comes with its own built-in stand for support when standing still. It features next-gen styling features, including an aluminum alloy stick to tie the trolley handle with the main body, a rubble handheld blanket, dual charging ports, and an ultra-bright taillight on the backside. On the front, it has a bright central headlight with a customizable range for low-light roads.
The power to the V11 unicycle comes from a 2000 W motor that is capable of taking it up to a top speed of 50km/h (31.25 mph). To give it ultimate off-road riding capabilities, there has been attached an 18-inch x 3-inch wide tire that ensures steadiness even on the bumpiest terrains.

The innovative cooling system keeps the device cool even through the most intense rides, thanks to its three-way heat-sinking technology.

To ensure an overall comfortable riding experience, there has been added an adjustable 70mm air-spring suspension that keeps the ride smooth and safe on bumps.
The Inmotion V11 integrates a dual 84V 1500WH battery pack that can give a maximum range of up to 120 km (75 miles) in ideal conditions. It has collaborative LG batteries on both sides to keep the vehicle running even if one battery fails during the ride. The battery can be easily and quickly charged with any 5V / 2.1A USB port through the integrated dual charging ports.
KS-S18: Brief Summary
KS-S18 is the latest offering from the China-based King Song Intelligence Technology Co. Ltd. It's a high-performance, safety-focused electric unicycle that features an aggressive sports bike design with an air intake system for efficient cooling. The ergonomic design ensures high safety and comfort for the rider.
Among other things, the best part of the KS-S18 unicycle is the variable linkage dampening air suspension system that uses 200-57 suspension and can be adjusted depending on the road conditions and ride style.
Other notable features include a 12 MOS design, an aluminum body frame, stronger headlights with automatic sensors, an ergonomic handle for pushing and lifting, three-in-one rear light to display battery level, braking, and turning signals.
It integrates a 2200W motor that is capable of managing a top speed of 50km/h (31mph) in preferred conditions. The maximum mileage that can be achieved with the KS-S18 is around 100km (62 miles), thanks to integrated DC 74V 1110WH battery.
KS-S18 vs Inmotion V11: Features Comparison
| | | |
| --- | --- | --- |
| Product | Inmotion V11 | KS-S18 |
| Weight | ~27kg (59.5 lbs) | ~22kg (48.5 lbs) |
| Mileage/Range | 75 miles (120km) | 100km (62 miles) |
| Max. Speed | 31.25 mph (50km/h) | 50km/h (31mph) |
| Climbing Angle (Gradability) | 35° | ~40° |
| Max. Payload | 120kg (264 lbs) | 120kg (264 lbs) |
| Battery | 84V 1500WH | DC 74V 1110WH |
| Charging Time | 10 h (5h with dual chargers) | ~6h with 2.5A charger |
| Motor Power | 2000W | 2200W |
| Tire | 18-inch x 3-inch | 18-inch x 3-inch |
| Bluetooth | Bluetooth 5.0 BLE | Bluetooth 4.0 |
| Size | 26.6×19.7×7.87in (675.64×500.38×199.89mm) | 557x530x200mm |
| Ground-Footboard distance | 3.55-6.30 in (90.17-160.02mm) | 210-110mm |
KS-S18 vs Inmotion V11 – Which to Buy
Well, in terms of features, the KS-S18 and the Inmotion V11 are more or less alike. Both have an equally powerful motor and both can go to a max speed of 50km/h (31 mph). The maximum range for both the unicycles is over 100km (62 miles).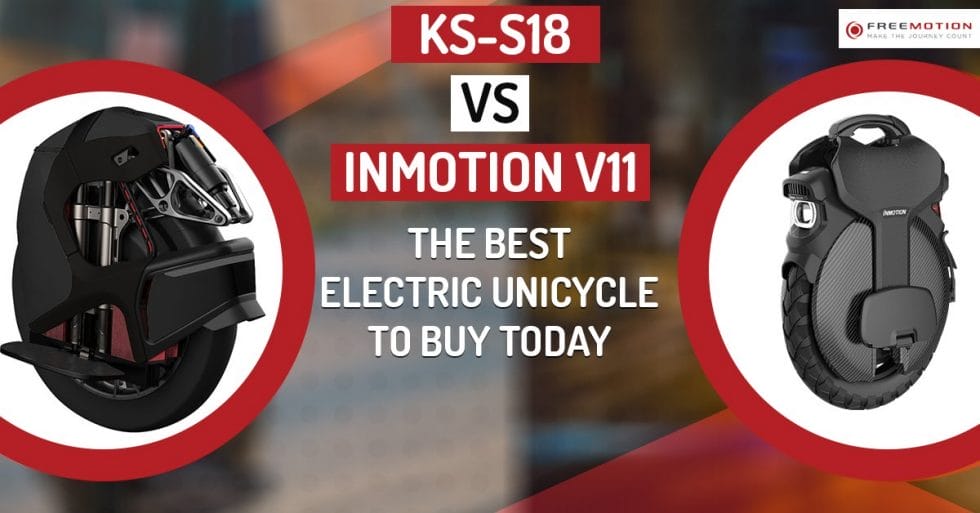 While both the devices integrate powerful battery packs, the one in the Inmotion V11 has more power and thus slightly better output performance.
The battery pack in the V11 consists of two separate batteries on either side of the device to ensure the device keeps running even if one battery fails. Both vehicles integrate smart BMS and allow the battery conditions to be monitored via the official mobile apps.
There are some basic differences in terms of design. While the KS-S18 features a more sporty (naked) look with better safety features like lift sensor, roll protection, low battery indicator, speed limit protection, high-temperature protection, etc., the Inmotion V11 design is more stylish and attractive.
It has extra-large anti-slippery pedals, a built-in stand, off-road tires, an extra bright headlight, and a uniquely designed taillight. The KS-S18 also has a rear light that integrates battery level, braking, and turning signals all within one singular unit.
Do you want to read more about the comparison between different e unicycles and electric scooters ? Check out these articles.