The Begode Master and the KingSong S22 sit at the upper echelon of the EUC world. These electric unicycles are the flagship models from their respective manufacturers and belong to the high-performance electric wheel category. Both wheels are built to push the performance limits and take the riding pleasure to the next level.
In this post, we'll compare both of these top-performing EUCs to help you decide which one is ideal for you.
Motor:
The Master is powered by a C38 High Torque motor that generates a staggering 3500W of power. The KingSong S22, on the other hand, is just as powerful, with a 3300W motor at its heart.
Top Speed:
With a breakneck top speed of 100km/h (free spin speed -12 km/h), the Master is the fastest electric unicycle ever built. The KingSong S22 is a touch slower and has a peak speed of 70km/h (free spin speed -12 km/h).
Climbing ability and load-bearing capacity:
The KingSong S22 and the Master have similar hill-climbing and load-bearing capabilities. Both these electric unicycles can easily mount a 40° slope and carry a maximum load of 265 pounds (120kg).
Safety and Weather protection:
The KingSong S22 is somewhat superior to the Master in terms of safety and weather protection. The motor's temperature is constantly monitored to keep the rider safe, and a bespoke bearing seal is added to the S22 for further protection against extreme weather conditions.
Battery Capacity:
The Master has a slight edge over the KingSong S22 in terms of battery capacity. A top-class 2400Wh battery is fitted to the Master, whereas the S22 features an energy-efficient 2220Wh battery pack.
Range:
Although the Master takes the lead in battery capacity, the S22 retaliates with its better range figures. The unicycle offers an overwhelming 200 KM of range due to an improved Battery Management System (BMS) and leading-edge battery technology.
The Master's 134V battery pack keeps the wheel on the move, delivering an equally impressive 120-180 KM range.
Both these EUCs, with their superior range, are more than optimal for extended road trips and long recreational trips.
Suspension:
KingSong is one of the first manufacturers to develop suspension technology for electric unicycles. The company has fitted a revolutionary suspension system to the S22 that offers an exceptionally smooth ride, thanks to a vertical travel of 130mm and a racing-grade lever structure. The ride is softer on flat roads and a bit stiffer on rough terrains.
The Master's suspension technology is no slouch either. The high-tech system effectively absorbs the impacts of bumpy terrains and uneven surfaces, resulting in a super comfortable ride. The suspension travel of 80mm is good enough to tackle rugged off-road conditions, allowing you to glide over obstacles with incredible ease.
Design:
Design is the most important consideration for riders who want to make a statement with their EUCs. The KingSong S22 and the Begode Master both are sure to turn some heads with their stunning designs and hypnotic aesthetics.
The S22 flaunts super-aggressive, futuristic looks that are accentuated by attractive power pads and seamlessly integrated LEDs. In contrast, the Master boasts a minimal, sleek, yet incredibly functional design that offers unmatched daily life usability.
Build Quality:
Only a few can match the KingSong S22 in terms of build quality. The electric unicycle comes with a rugged and robust frame that can withstand the harshest of conditions with incredible ease. The well-made structure also protects the wheel in case of an accident or a fall.
The Master is also quite durable, courtesy of cutting-edge materials used in its construction. The unicycle's solid and sturdy build ensures a safe and stable ride even at higher speeds.
Display:
The Master is equipped with a large, vibrant LCD screen, while an ultra-bright matrix display adorns the handlebar of the S22 Eagle. Both these displays provide all the essential information to the riders, including speed, battery life, and temperature.
Lights:
The adjustable LED headlights (5W*8) on the S22 are a game-changing innovation that allows riders to adjust the light angles for up to 15 degrees. The wheel also features an LED rear light and integrated turn signals.
The Master doesn't have integrated turn signals; however, a 7000-lumen headlight is added for improved visibility in low-light conditions.
Tires:
There isn't that much difference between the two EUCs when it comes to tire size. Both these electric unicycles come with high-quality 2.75*14 tires that offer unmatched road grip and supreme control.
Additional Features:
The S22 Eagle is head and shoulders above the Master in terms of added features. The wheel offers a detachable seat to ensure a pleasant and relaxing ride. The spiked footplates provide enhanced grip, and an integrated kickstand solves the storage dilemmas. The EUC has a replaceable front bumper, and a trolley handle is added for unsurpassed portability.
The Begode Master has CNC machined spiked pedals to offer better grip to the riders. The EUC can navigate through the tightest corners and bends, thanks to the footrest clearance of 220mm.
Price:
The Begode Master and the KingSong S22 are available at freemotionshop.com for 3299$- 3499$ Aproximately C$4,499.
Salient Features and Specifications:

Kingsong S22 Eagle:
Motor (Nominal): 3300W
Peak Power: 7500W
Battery: 2220Wh 126V Smart BMS
Max Speed: 70 km/h / 43.5 mph
Range: 200 km / 125 miles
Suspension: 130mm movement, Scrambler-style suspension
Weight: 33 kg (est.)
Load (Max Rider Weight): 120 kg
Wheel Size: 20″
Lights: Smart rear lights, Tiltable headlights, Turn signals
Modular motherboard
Built-in display
Built-in adjustable power pads
Kickstand
Spiked pedals
Begode Master: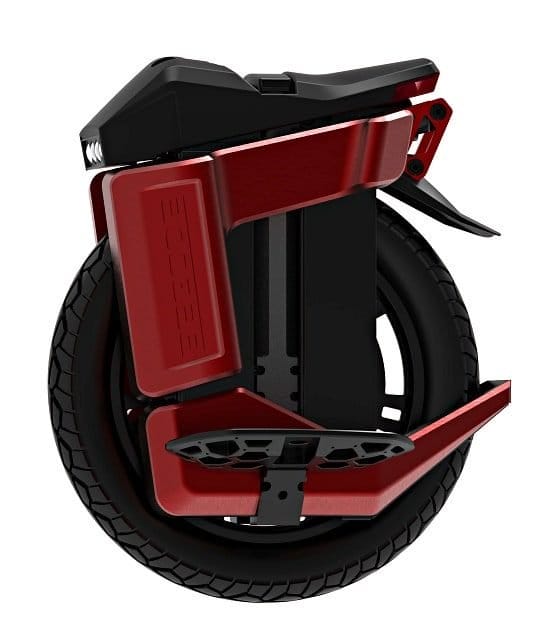 Motor: C38 High Torque 3500W
Battery: 134V, 2400WH
Range: 120-180KM
Max Free Spin Speed: 112 KMH
High-Performance Motherboard: 24 units MOSFET
Suspension Travel: 80mm
Adjustable Air Spring
Anti-Spin Button: Yes
Net weight: 36kg
Rough weight: 41kg
BT Speakers: No
Headlights: 7000 lumen
Charger: 134.4V 3/A
LCD: Yes
Pedal height: 220mm
Tire Size: 2.75-14 inches
Conclusion:
There is not that much to choose between the Master and the S22 Eagle. Both high-performance EUCs are a notch above the competition and offer mind-boggling power along with industry-leading features.
The Master is the king of straight-line speed, whereas the S22 is a futuristic unicycle with an enormous range and best-in-class suspension. The deciding factors in your purchase decision will be your personal preferences and everyday usage.
FAQs:

How does a unicycle work?
Electric unicycles are self-balancing personal mobility devices that consist of a single wheel, battery, and motor. They are incredibly easy to navigate and are steered through body movements. If the rider inclines forward, the motherboard detects the inclination and increases the speed of the EUC. When the rider leans backward, the unicycle slows down. It is THAT SIMPLE to ride an ewheel!
How to choose a unicycle?
Electric unicycles are made by numerous manufacturers, including InMotion, Gotway, LeaperKim, and KingSong. The majority of them provide a variety of models with varying features, power, size, and costs. Electric unicycles come in various wheel diameters ranging from 12 inches to 18 inches.
The following factors should be considered before buying an electric unicycle:
Motor Power
Top Speed
Battery Capacity
Range
Build Quality
Safety Features
How fast does an electric unicycle go?
The Unicycle designed for beginners can achieve top speeds of up to 20-30 MPH. However, the electric unicycles that fall in the high-performance category can attain peak speeds of up to 45-60 mph.
Which are the fastest electric unicycles on the market?
The following are the fastest electric unicycles available:
Begode Master – 60 MPH
Veteran Sherman Max – +45 MPH
Extreme Bull Commander – 40-50 MPH
InMotion V12 – 43.5 MPH
Begode EX.N – 45 MPH
Veteran Abrams – +50 MPH
Begode EX2S – +50 MPH
KingSong S22 Eagle – 40 MPH
How much does a unicycle cost on average?
A high-end electric unicycle will cost you $3000-$4000 on average. Some high-performance models are even more expensive. A decent, everyday wheel, on the other hand, will cost you at least $1500-$2000. What you pick is determined by your intended use and whether you're new to electric unicycles or a seasoned veteran.