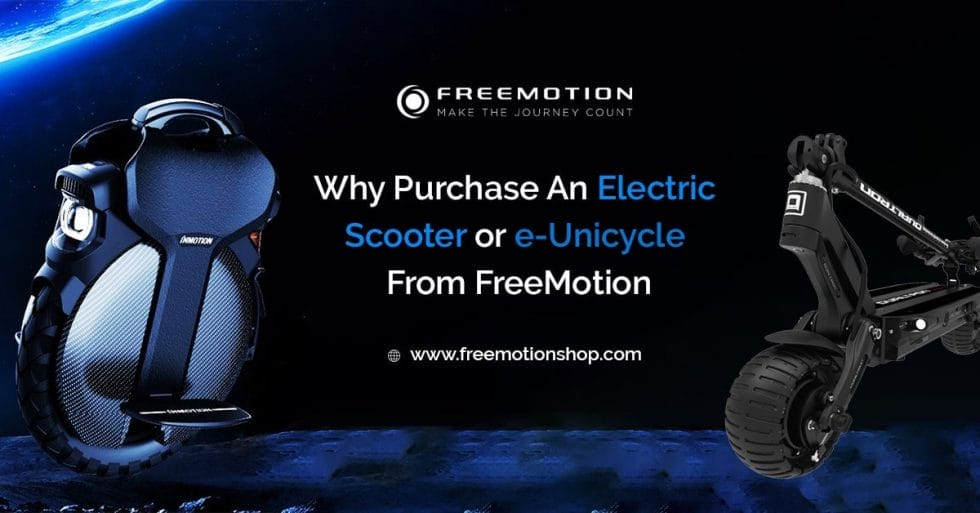 Tired of wandering here and there in search of the best electric scooters and unicycles of top brands? Welcome to FreeMotion! We have been the most trusted online shopping venue since 2014, delivering the latest and most loved electric mobility products from the top brands.

You can purchase from a wide range of cutting-edge electric mobility solutions whether it is electronic hoverboards, electric unicycles, electric scooters, or even electric skateboards, we have all.
Unmatched Experience and long-lasting Trust
Now if you are thinking about buying an electric scooter or even an electric unicycle from freemotionshop.com let us tell you the reasons to choose us one by one, and we are starting with the experience and customer trust.
We have been in business since 2014, and in these 6 years, we have become the most trusted online shopping destination for enthusiastic and technology-savvy customers from around the world.

They trusted us, and the products from our store, and we are keeping our "promise to be authentic and ethical" and keep everything "affordable and reliable" for our customers.
Top-Notch Brands and Products On-Board
FreeMotion Shop has been a highly trusted vendor of mobility solutions and the best part is that these solutions are electrically powered, so no pollution, very clean, and can bring a new sense of fun and adventure to your daily life. We are, for years, contributing to the revolution in urban and suburban mobility, making life a bit easier and tension-free.
At FreeMotion you will find smart electric mobility devices from the top and highly rated brands such as Currus, InMotion, Minimotors, Kingsong, Ninebot by Segway, Gotway, Weped, Sherman Veteran, and Spirit Beast.

These brands are industry leaders and leading the electric mobility products industry from the front. And we are proud to be the official distributor for all these best brands in the market.
We have a wide range of products such as electronic hoverboards, electric scooters, electric unicycles, electric skateboards, and even their spare parts, available on freemotionshop.com at very reliable costs.
Customer and After-Sale Support with Goodies You Like
You should buy an electric scooter or electric unicycle from freemotionshop.com because we understood at a very early stage that without a well-functioning and reliable customer support facility we can't earn the trust we require to survive in this field and that's why we managed to build a very responsive team of customer support executive and each of them is dedicated to answer all your queries and provide you with the quickest and the best possible customer support experience.
We are just a call away, so whether you want more details about products or have a query, feel free to ring our phones and we will be there to help you in no time.

However, calling us is not the only way to reach us, you ensured that we stay as close as possible to our customers and that's why you can contact us through any of the modes of connection such as email, text message, the website, or even through social media profiles (i.e. Facebook Messenger and Twitter).

On each of our electric mobility products, we offer a full 12-month warranty. Hence, at FreeMotion you are not just purchasing a reliable product but also ensuring that the first year with the product will be completely tension-free.
Free Fastest Shipping and No Import Duties
As a reputed online shopping venue and a well-known distributor, we also take care of the shipping to the USA and Canada.

We offer free shipping to the USA and Canada and we keep our products free from import duties for Canadian customers.

So If you are from the USA and Canada, what are you waiting for? Place your order today and enjoy an unmatched experience.
Additionally, We are integrated with some of the fastest courier service providers and they will make sure that your purchased product gets delivered to you through the fastest mode available in the minimum time.
Unbreakable Relation
Without customers' trust, no business can survive in this fast-moving world, that's why we also focused on maintaining good relationships with our existing and new clients.

We also offer spare parts at the lowest possible cost after the warranty expires. So again, you don't have to wander here and there, you just have to either order the required spare part or inform us about your requirement and we will make sure that that particular spare part reaches your door in no time.
Additionally, not just spare parts but with new offers, discounts, and our blog we will keep you connected as well as up-to-date with everything that is going on in the electric mobility products world.
Reasonable Pricing
We, FreeMotion deal directly with manufacturers, thus helps us to deliver the most authentic products at a reasonable cost.

There are no hidden costs and shipping to the USA and Canada is free for other parts of the world there will be very minor charges.

One thing we would like to mention here is that when a customer places their order at FreeMotion we thank them with a small gift with each electric scooter purchase. Along with the reasonable price, support, and 12-month warranty, a gift is like a cherry on the cake, and our clients love it.
More Reasons To Purchase An Electric Scooter or e-Unicycle From FreeMotion
In all these years we earned the trust of your customers, and ratings and reviews are the proof of it. As a reputed online shopping destination and official distributor for all the best brands in the market for electric unicycles and scooters, we are committed to delivering the best services before and after the sale.

We kept the prices of products very reasonable and there are no hidden costs. We are keeping everything authentic and clear. FreeMotion needs to be your first choice if you are buying an electric scooter or electric unicycle.
If You want more reason or have any doubt, always Feel Free to Contact us, We will not just answer you but also help you to buy the best at the most amazing cost.
Do you want to read more about why e-unicycles or electric scooters Purchased are from freeMotion? Check out these articles.