Kingsong is known for making the most innovative, reliable, and inexpensive electric unicycles on the market. In the past, the company has refrained from chasing ridiculous performance figures and instead has prioritized developing the safest EUCs possible with exceptional long-distance riding capabilities.
However, things are going to get even better as Kingsong is preparing to shatter Begode and Veteran's hegemony in the high-performance EUC segment with the launch of the KS-S22.
With futuristic looks, a 3,300W hollow bore motor, and a top speed of 70km/h, the S22 is a marvel of ground-breaking design and cutting-edge performance. The 2,220Wh/126V SmartBMS battery delivers 200km of range, and an ultramodern suspension system is equally optimal for city rides as well as off-road commutes.
Salient features of Kingsong S22:
Motor (Nominal) – 3300W
Power (Peak) – 7500W
Battery – 2220Wh 126V Smart BMS
Max Speed – 70 km h / 43.5 mph
Range – 200 km / 125 miles
Suspension – 130mm movement, Scrambler-style suspension
Weight – 33 kg (est.)
Load (Max Rider Weight) – 120 kg
Wheel Size – 20″
Lights – Smart rear lights, Tiltable headlights, Turn signals
Modular motherboard, built-in display
Built-in adjustable power pads, kickstand, and spiked pedals
Performance:
KingSong has installed an in-house developed hollow bore motor in S22 that produces a nominal output of 3300W and a peak power rating of 7500W. The one-of-a-kind motor is powerful enough to climb a 40-degree incline and has a top speed of 70 km/h. The maximum load-carrying capacity of the electric unicycle is 120 kg, and the free spin speed is around 105km/h. The motor bracket is made of aluminum alloy, and the temperature is constantly monitored to keep the rider safe. A custom bearing seal is also added to the motor that provides added protection against the most challenging weather conditions.
Battery and Range:
The Kingsong S22 features an LG50LT 21700 5000mA battery that has an extraordinary capacity of 2220Wh. The company has also added a Smart BMS system to the dual battery pack that monitors and ensures the pack's safety. The highest-quality battery delivers an impressive 200km range and takes around 4 hours for a full charge, thanks to 10A fast charging. With such splendid figures, riders can rely on the S20 Eagle for inter-city commuting as well as longer trips without having to worry about charging the battery.
Controller Design:
The KS-S22 features a revolutionary modular control board that includes a digital display, rear lights, an on/off switch, and charging ports. The electric unicycle also has twelve high-voltage MOS to supply the 3300W motor with the highest performance possible. they successfully improved heat dissipation with the four-layer design and 16 heat sink columns, offering utmost stability to the riders.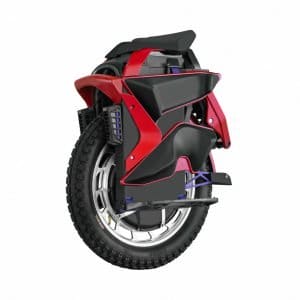 Suspension:
KingSong is the first manufacturer to introduce a unique spring suspension system to electric unicycles. S22 state-of-the-art suspension design features a racing-grade lever structure that offers augmented support and a smooth linear dampening experience. As a result, the EUC provides a softer ride on flat roads and a firm one on rugged terrains. The cleverly designed system offers a suspension travel of 130mm and a spring travel of 75mm, making it equally optimal to tackle gravel, dirt, and asphalt.
Appearance:
As the name suggests, the design of the Kingsong S22 is inspired by a flying eagle, and it is not an exaggeration to call it one of the best-looking electric unicycles on the market. The EUC's spell-binding appearance and mesmerizing looks add to its aesthetic appeal, while the aggressive power pads and seamlessly integrated LEDs accentuate the futuristic design.
Lighting Systems:
Adjustable LED headlights (5W*8) are fitted to the Kingsong S22, allowing the riders to set the angles (up to 15°) according to their needs. With this game-changing feature, the users will be able to safely ride the EUC in parks or woods, even at night. A rear bright LED with integrated turn signals is also added to the back of the unicycle.
Additional Features:
Kingsong S22 comes with a plethora of useful features. A removable seat has been added to the electric unicycle, resulting in soothing and comfortable longer rides. Spiked footplates with a honeycomb design offer enhanced grip, and an integrated kickstand solves the storage dilemmas. The EUC has a replaceable front bumper, and a trolley handle is available for unsurpassed portability. Customizable power pads provide excellent control and seamless maneuverability, and a matrix display shows power, speed, and other valuable information.
Verdict:
The Kingsong S22 is a cut above the competition with all these revolutionary features. The electric unicycle's exceptional performance, remarkable range, and ground-breaking suspension make it one of the finest option on the market right now. The EUC is equally optimal for performance junkies as well as everyday city riders and provides a lot more value than its competitors.