If you've never ridden an electric unicycle before, it might be intimidating to see someone riding this one-wheeled vehicle on a crowded urban street. Well, you don't have to be that concerned; these e-mobility gadgets are simple, secure, and easy to use.
As a beginner, the first step is to select a safe and sturdy wheel that can help you learn the art of riding swiftly and conveniently.
To help you find the best electric unicycle as a beginner, we have thrown some light on the specifications and features of the six most potent e-wheels. These e-unicycles are the finest in their class and can help you get a taste of the EUC lifestyle.
INMOTION V8F:
The InMotion V8F is an ultramodern, stylish, and compact electric unicycle that is meticulously designed to meet the needs of rookie riders. The EUC is powered by a highly capable 1000W motor that can generate a maximum torque of 80 N.m. With such electrifying performance, the electric wheel can attain a peak speed of up to 21.7 mph (35 Km/h). The V8F has a load-bearing capacity of 260 lbs and can ascend a 30° slope with ease.
The EUC features a high-quality 518Wh LG battery pack that delivers an astounding 30-35 miles range (55 km) on a single charge. Such a superior range is enough to take you from one location to another, allowing you to cherish your recreational trips and city commutes. It takes around 4.5 hours to fully charge the battery with a standard charger.
The customizable RGB lights on both sides of the V8F accentuate its eye-catching design, and a 5W high beam light at the front offers better visibility at night. The EUC is also equipped with plush microfiber leather padding for relaxing and stress-free riding.
INMOTION V10F:
The InMotion V10F is a highly advanced electric unicycle with best-in-class features and cutting-edge technology. A 2000W motor sits at the heart of the unicycle, pushing it to a top speed of 25 mph (40 km/h).
The e-unicycle offers an impressive 62 miles of range, thanks to a massive 960Wh battery. The EUC boasts a hill-climbing ability of 30 degrees and can carry a maximum payload of 260 pounds (117 kg).
The V10F offers unmatched riding pleasure, and to make things even better, InMotion has incorporated the finest quality Bluetooth speakers so you can listen to your favorite tunes while on the road.
There are very few EUCs that can match V10f in terms of aesthetics. The unicycle's captivating yet simple design is a sight to behold, and the customizable LED lights on the front, rear, and side panels make it even more pleasing to the eyes.
The V10F is equipped with 2.5-inch wide, first-class tires that provide exceptional road grip and traction. The high-mounted pedals offer enhanced maneuverability, allowing the electric unicycle to easily traverse tight corners and curves.
BEGODE MTEN 3: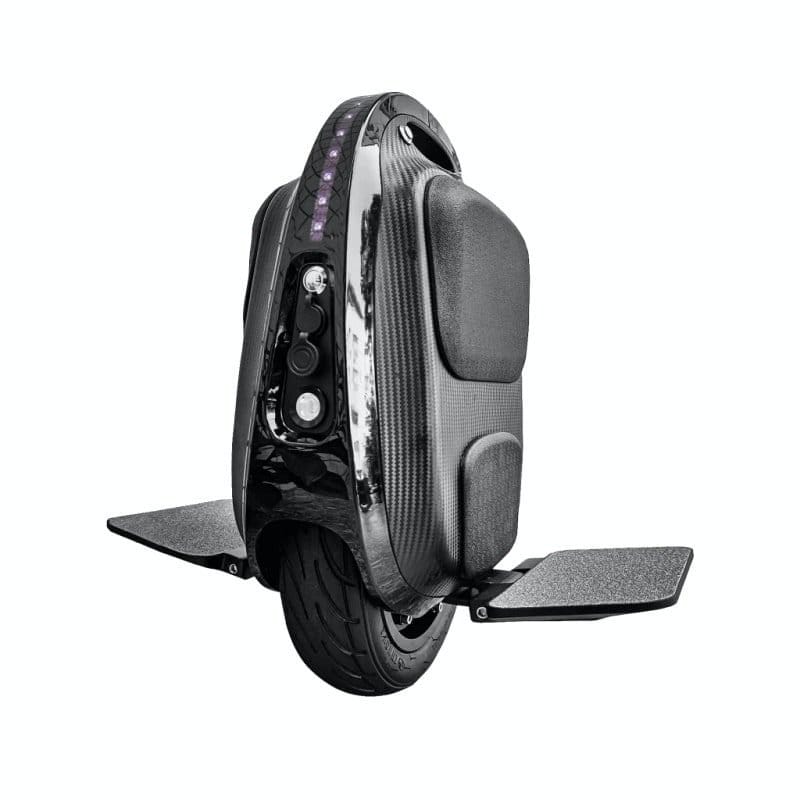 The Begode MTEN 3 is a high-end electric unicycle that is durable, elegant, and inexpensive. Its mighty powerful motor produces an incredible 800W of power, allowing the wheel to reach a top speed of 22 MPH.
The highly capable electric unicycle can carry a maximum load of 240 lbs (110kg) and ascend a 20° incline effortlessly.
The battery capacity of the EUC is 512Wh, and the charging time is merely four hours. With this battery life, the MTEN 3 can roughly cover 23 miles before running out of juice.
With one of the smallest wheel diameters at ten inches, the e-unicycle offers supreme control and stability. The pedal brake support is an important element of this unicycle that makes it a decent choice for beginners. Riders can brake more easily with pedal braking assistance.
The MTEN 3 features a bright headlight and controllable multi-color LEDs, perfect for night-time rides. The wheel has a solid and robust build and comes with an official partner app that can be used for controlling its functionality.
BEGODE MCM5 V2:
Begode MCM5 V2 is an all-around electric unicycle that sits at the upper echelon of the budget category. It is the world's fastest and most powerful 14-inch electric unicycle that outperforms its competition in every aspect.
The unicycle is driven by a monstrous 1500W motor that allows it to reach a maximum speed of 25 MPH. A high-capacity 800Wh battery delivers an astounding 34 miles of range, letting you travel to places that seemed too far away before.
In order to provide exceptional stability and control, the MCM5 V2 is equipped with top-class, ultra-wide 14″ x 2.5″ tires that stick to the ground even in wet and slippery conditions. The built-in trolley handle enhances the portability of the wheel, making it easy for you to take it from one place to another.
The Customizable RGB Lights on the top and rear enhance the sleek and futuristic design of the wheel while giving it a unique and eye-catching look.
BEGODE TESLA 3:
Begode TESLA 3 is a perfect fit for people looking for a safe, fast, and feature-rich electric unicycle. Propelled by a super-strong 2000W hollow bore motor, the EUC can achieve a breakneck top speed of up to 31.25 mph (50 km/h). With such mind-bending performance, carrying loads of up to 220 lbs (100kg) and conquering 20° slopes becomes a walk in the park for TESLA 3.
The e-unicycle puts an end to range anxiety concerns owing to its 1500 Wh LG M50T 21700 battery pack that lasts up to 50-75 miles (80-120 Km) on a single charge. It takes about 12 hours to fully charge the battery using a standard charger.
The e-wheel's 16-inch wheel diameter improves agility and control, while the 135mm footrest clearance allows it to tackle sharp twists and bends effortlessly. The dimensions of the unicycle are 570 x 420 x 230 mm.
The TESLA 3 comes with an ultrabright headlight and taillight that illuminates your way in the dark. Colorful LED lights are also added to the sides, making the wheel more striking and noticeable.
An extendable handle, USB charging port, and high-quality speakers round out the impressive feature list of the EUC.
KINGSONG KS-16S:
When it comes to a lightweight electric unicycle with jaw-dropping power and an awe-inspiring range, the Kingsong KS-16S holds no competition. The KS-16S is ideal for beginners as it is easy to maneuver and offers unrivaled stability even at higher speeds.
The electric unicycle is equipped with a robust 1200W motor that takes it to a top speed of 35 km/hr (approx 22 mph). The EUC can carry a maximum load of 150 kg, and its outstanding 30° hill-climbing ability is the highest in the category.
The KS-16S houses an energy-efficient 840Wh battery that delivers an extraordinary driving range of 70 kilometers. This range is ideal for extended road trips and allows you to go further off the beaten track.
The customizable LED lights at the front and back elevate the aesthetics of the EUC while giving it a modern and distinctive look. The side leg cushioning keeps you secure and comfortable on bumpy terrains, and the magnesium alloy pedals offer excellent grip.
The KS-16S comes with a bunch of industry-leading safety features, including emergency and regenerative braking, brake lights, and a speed limit control option.
KingSong has installed two premium stereo speakers to the KS-16S so you can listen to your favorite tracks and make your journeys even more joyful and fun.