When planning to buy a unicycle, one of your concerns should be to choose a reliable and popular brand. A unicycle that is backed by a trusted and reputed brand will usually go a long way.
As the popularity and demand for electric unicycles are increasing, so is the number of manufacturers in the market. It might help to research a little about these electric unicycle brands before you decide to buy from one.
Here is the list of the top brands of electric unicycles in the USA, including a bonus, a new player that has been gaining a lot of buzz lately.
InMotion
Founded in 2007 by a team of visionaries and tech wizards, INMOTION is one of the most successful brands engaged in the research, design, and development of advanced electric mobility solutions, including e-scooters and unicycles. Having experience in robotics and vehicle dynamics, their team strives to create the most portable, lightweight, eco-friendly, and state-of-the-art short-distance transportation vehicles.
Here are the top electric unicycles you can purchase today from InMotion.
Inmotion V8/ V8F
The InMotion V8 and V8F are entry-level unicycles that feature a good combination of power and design. The unicycles look impressive with a robust, portable design containing LED lights on both sides of the wheel and a bright headlight.
While the V8 unicycle has an 800W motor with 30km/h (19mph) top speed, the V8F is a more powerful variant with a 1000W motor offering a top speed of 35km/h (21.7mph). Also, the V8F unicycle has a slightly bigger battery with more range compared to the V8. Both vehicles have a 16-inch tire, IP55 water resistance rating, retractable built-in handle, and built-in speaker.
Inmotion V10/ V10F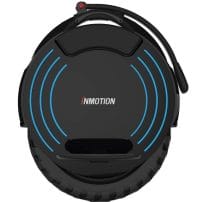 It's a mid-range, performance-centric electric unicycle that features a 2000W motor along with a 960Wh (12.8Ah) offering a maximum mileage of 90~100 km (55.5~62.5 miles). The unicycle can achieve a top speed of up to 40km/h (24.9mph) in optimum conditions. Other features include a 30° max slope, 16-inch road tire, IP55 rating, 120kg (265lbs) load capacity, fast charging, internal cooling system, battery management system, large pedals, etc.
Inmotion V11


The Inmotion V11 is an upgrade to the V10/V10F unicycle and has many better features including a more powerful 2200w motor, offering a max speed of 50km/h (31.25mph), a larger 1500Wh battery with an improved mileage of 75 miles (120km), 18-inch wide (off-road) tire, fast charging capacity, and built-in air suspension.
If you are looking for something new with a futuristic design and Built-in Adjustable Suspension, you'll absolutely love the Inmotion V11.
Kingsong
King Song, formally Kingsong Intell Tech Co., LTD, is a China-based manufacturer of high-tech electric personal vehicles, including electric unicycles, e-scooters, two-wheel balance scooters, and others. One of the things that make King Song stand out from the competition is the fact that all their products are backed by their extensive research. Besides, they are famous for offering high-quality solutions with superior after-sales support.
Some of the top electric unicycle options from King Song are as follows:
KS-S18
The most advanced electric unicycle in the market, the KS-S18 integrates the category-best 2200W motor, offering a top speed of up to 50km/h (31.25mph). It's also the first unicycle to feature a Variable Linkage Air Dampening Suspension System for a comfortable and shockless ride experience. In addition, it has a wide 18-inch tire, 40° climbing angle, 1110Wh ultra-powerful battery, 4-layer motherboard, high beam headlight, and Bluetooth connectivity.
KS-18XL
Within the Kingsong brand, the KS-18XL is the best alternative to the KS-S18. It has a 1554 battery that is bigger and better in terms of power, delivering a peak mileage of up to 140km (85 miles). The 2000W motor offers a power-packed performance with up to 50 km/h (30mph) of top speed and smooth acceleration. The unicycle integrates a HIFI BT speaker and has Bluetooth connectivity.
Begode-Gotway
Gotway is a subsidiary of Dongguan Begode Intelligent Technology Co., Ltd., a China-based company that specializes in the development of research-based electric mobility products such as electric unicycles, electric skateboards, and others.
Some of the best unicycles created by Gotway include:
Begode-Gotway Nikola/Plus
The best electric unicycle from Gotway, this compact wheel integrates a powerful 2000W motor and a large battery with 1600Wh capacity and up to 140km (85 miles) of top mileage. The unicycle delivers the performance of a high-end vehicle yet doesn't cost as much.
The company has recently introduced the upgraded version called the Gotway Nikola Plus, which comes with a bigger battery and a more powerful motor. The Nikola Plus unicycle has an 1800Wh battery with a maximum range of up to 145km (90 miles). It also has Alarms and a tilt-back warning system, a fold-up trolley, an anti-spin lift sensor, and front, rear, and side LEDs.
Begode-Gotway MTEN3
The MTEN3 is an entry-level electric unicycle from Gotway. It packs an 800W motor with a max speed of over 23mph (37 km/h). The unicycle comes in two battery variants – 325Wh and 512Wh – with slightly different capabilities. On average, it offers a maximum range of up to 30 miles (48.2km).
Begode-Gotway RS
The Begode-Gotway RS is the latest in the series of high-performance unicycles by the brand. It comes with a 19-inch off-road tire suitable for all-terrain conditions. Other improvements include a new hollow 2600W motor with up to 40mph (64.37km/h) top speed, a 1800Wh battery with up to 60 miles (97km) of maximum range, larger pedals, double lighting strips, Bluetooth speakers, 6000Lm dual headlights, dual charging ports, and under-handle lift switch for each portability.
Leaperkim (New Player in the Unicycle Market)
A new manufacturer that has been creating a lot of buzz in the unicycle market lately is Guangzhou Veteran Intelligent Technology Ltd. It's a Guangzhou, China-based technology company that is engaged in researching & developing advanced mobility solutions on electric self-balancing technology. The main focus of the company is on creating electric unicycles and scooters that are more powerful and safer than other options in the market.
The first product of the company called the Veteran Sherman (Unicycle), was launched in early 2020 and is already getting a lot of hype because of its unique, robust design, featuring a dashboard that displays mileage, speed, ride modes, and battery status. The unicycle comes with an ultra-powerful 2500W motor that can apparently deliver a max speed of up to 45mph (72.4km/h). Also, the 3200Wh battery of the Veteran Sherman is one of the best in the industry and offers a range of up to 128 miles (206km). The scooter comes with many other category-best features, including 330 lbs (149.68kg) load capacity, fast charging, dual cooling fans, and portability, among others.
Where to buy:
At Freemotionshop.com, you can buy the latest and most advanced unicycles from all the top brands around the world at the best prices. As an authorized online seller of these advanced mobility solutions, we are trusted for authentic products and reliable services.
For Inmotion Unicycles, click here
To explore the range of Kingsong Unicycles, visit here
Check out & buy the latest Begode-Gotway Unicycles here
Do you want to read more about Best Electric Unicycle Brands (in the USA & Canada)? Check out these articles.