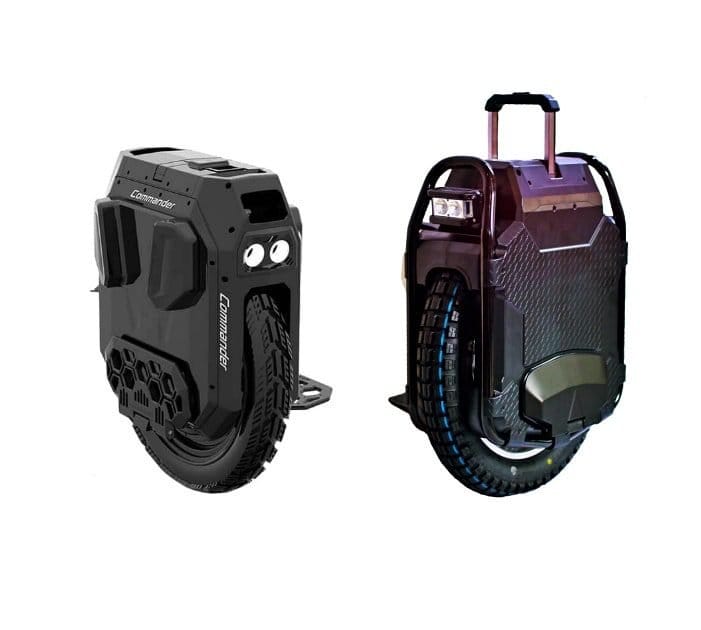 The high-performance electric unicycles are winning the hearts of countless EUC aficionados with their jaw-dropping performance, scintillating top speed, and matchless riding pleasure.
In this article, we will compare the two crown jewels of the EUC world that are sweeping all of the world's major cities. Yes, you have guessed it right, the Veteran Sherman Max and the Extreme Bull Commander.
The two electric wheels are perfect contenders for each other, yet they annihilate their competitors by a long shot. Let's take a closer look at their features and specifications and find out how they trade blows with each other.
Performance:
With their groundbreaking technology and super-strong motors, the Sherman Max and the Extreme Bull Commander raise the bar of performance and straight-line speed.
A mighty powerful 2800W motor sits at the heart of the Sherman Max that pushes it to a top speed of 72 km/h (45 mph). LeaperKim has improved the motor design with new pedal brackets and thicker 10AWG phase wires. The electric unicycle can ascend a 40-degree slope and carry a maximum load of 120 kilograms.
The Extreme Bull Commander edges the Sherman Max in terms of motor output. The 3000W motor is available in two different variants; the C30 HS (High Speed) and the C38  HT (High Torque). The C30 HS has a top speed of 80 km/h, whereas the C38 HT variant can accelerate up to 70 km/h.
Compared to Sherman, the Commander has a better load-bearing capacity of 130kg, but its hill climbing ability of 30°-35° is slightly inferior.
Battery and Range:
There is not that much of a difference between the Sherman Max and the Commander when it comes to battery size and range. The Sherman comes with an energy-efficient Samsung 50E 100.8V 3600Wh battery that delivers an impressive 230 KM range. Similarly, a 3600Wh LG M50T 21700 battery pack is fitted to the Commander that lasts up to 230 km on a single charge.
The Max comes with a 100.8V 5A charger that charges the battery in around 8 hours, whereas the Commander's 100V 3A charger takes nearly twelve hours.
Design:
Veteran Sherman Max is the most innovatively designed EUCs on the market. The EUC boasts a simple and sleek silhouette that gives it a minimal and futuristic look. On the other hand, the Commander has a more aggressive appearance that is accentuated by its muscular and modern design.
Build Quality:
Both these electric unicycles are a cut above the competition in terms of build quality. The addition of a metal cage around Sherman's body boosts the durability and strength of the frame while protecting the Unicycle during falls.  
The Commander is equally robust. The EUC has a sturdy and rugged build, and the use of innovative materials in its manufacturing elevates its solid and premium feel.
The Sherman Max, at 39kg, is slightly heavier than the Commander, which weighs 36.5kg. Both these e-unicycles aren't that portable due to their higher weight and bulkiness.
The dimensions of both the unicycles are given below:
Sherman Max:
500mm x 195mm x 605mm (L*W*H)
Extreme Bull Commander:
510mm x 459mm x 600mm (L*W*H) (when unfolded)
510mm x 239mm x 600mm (L*W*H) (when folded)
Display:
Top-mounted LCD screens are standard on both ewheels, providing riders with all vital information like speed, battery voltage, mileage, mode switching, calibration, battery status, etc.
Footrest Clearance:
In terms of footrest clearance, there isn't much to choose between the two electric unicycles. Although the Max's 170mm footrest clearance is slightly better than the Commander's 165mm, both these EUCs can easily traverse the tightest curves and corners.
Light:
The Sherman Max features a 1500lm headlight for improved visibility, as well as a brake warning light and turn signals on the back. The Commander does not have turn signals, but it boasts dual LED lights at the front and a rear brake light.
Tires & Brakes:
The tire size is almost identical. The Commander comes with a 20×3-inch tire, while the Max has a 20×4-inch tire fitted to it. Both electric unicycles have regenerative braking for better performance and efficiency.
Safety Features:
Both these electric unicycles provide unrivaled protection to the riders as they are equipped with a slew of world-class safety features.
Safety Features added to Sherman Max:
The Max has inclination protection, which prevents it from rolling when the body angle exceeds 45 degrees.
The low battery protection alarm sets off at 75.6V, and the footrests start to tilt back at 74.5V.
The mainboard's overheat protection triggers at 85℃.
Safety Features added to the Commander:
The Commander automatically shuts off to protect the rider when the inclination exceeds 35° from the rear or 45° from the left or right direction.
A one beep/sec alarm starts when the remaining battery is less than 20%, and the footrests begin to tilt when the battery is less than 10%.
Urgent beeping is set off when the mainboard temperature is over 78℃.
Price:
The Sherman Max is available on freemotionshop.com for C$4,900.00, while the Commander is listed at C$4,799.00.
Features and Specifications:

Veteran Sherman Max:
Motor power – 2800W
Battery – Samsung 50E 100.8V 3600WH
Range – 230km
Max gradability – 30°
Operating temperature – 10-80℃
Max load – 120kg
Charger – 100.8V 5A
Charging time – 8.5h
Net weight – 39kg
Tire size – 20-inch off-road tire.
Central-mounted trolley handle
Charge port – Dual charge ports, support 10A max
Headlight – 1500lm modularization light
Extreme Bull Commander:
No-load speed – C30 HS 104km/h, C38 HT 83km/h
Range – 230KM
Max Climbing – 30°-35° (100KG rider at 20KM/H)
Max Load – 130KG
Motor Power – 3000W
Battery – 3600WH/100v , 21700
Wheel Diameter – 508MM
Footrest Height – 160MM
Net Weight – 36.5KG
Handle Height – 900MM
Charging Duration – 12H
Dimension (footrest folded) – 600*510*239
Dimension – 600*510*459
Turn signals, brake warning light
Conclusion:
The Veteran Sherman Max and the Extreme Bull Commander are incredibly potent, dependable e-mobility devices that check all the boxes of the premier, high-performing electric unicycles.
The top-of-the-line wheels are ideal for EUC enthusiasts who like to push their unicycles to their limits. So, for someone looking for performance e-unicycles with best-in-class features, the Veteran Sherman Max and the Extreme Bull Commander are the perfect options.
That said, both these EUCs have their own pros and cons, and to choose between the two, you have to rely on your personal preferences.
FAQS:
Why should I buy an electric unicycle?
Electric unicycles are becoming prevalent with each passing day, thanks to their compact size, low running cost, and optimum functionality. These eco-friendly urban transportation devices can take you almost anywhere in the city, allowing you to relish your road trips and recreational journeys like never before.
How long the battery takes to charge?
It depends on the battery size and the charger's output. With standard chargers, it usually takes 12 to 14 hours to charge the battery; however, a 10A fast charger can fully charge the battery in 4 to 5 hours.
Are unicycles any good for off-road adventures?
Yes, certain ewheels are explicitly developed for off-road excursions and outdoor adventures. Even on rough terrains, the Suspension EUCs give a relaxing and comfortable ride, making them ideal for thrill-seekers.
Are EUCs waterproof?
Although most electric unicycles are water-resistant against minor splashes and even against rain, it is best to avoid riding them in wet conditions.
How safe is it to ride an ewheel?
It largely depends on the riders and their expertise. If you are an experienced rider using a high-quality wheel, it is reasonably safe. But, if you are someone who hasn't ridden an EUC before, things can get tricky. Accidents do happen; therefore, wearing safety equipment is always a good idea.