Planning to buy a self-balancing one-wheel scooter? Here you can read about the top electric unicycles of the year in terms of speed, performance, and the overall value for money.
An electric unicycle (EUC) is a self-balancing personal transporter with a single wheel. Thanks to electric power, these personal commuters are faster and more fun to ride compared to traditional unicycles. Electric unicycles have gained immense popularity in the last few years, especially in Europe and the USA.
Whether you're looking for a way to beat the traffic while traveling to the office or just want an eco-friendly option for daily commuting, an e-Unicycle is perfect for you. Also, it's the best personal transporter for group ride activities as well as for people who ride unicycles for fun.
If you are planning to buy a self-balancing one-wheel scooter and looking for the best options available to you, here you go.
Best of Gotway One-Wheel Scooter in 2020
Gotway is a Guangdong, China-based manufacturer of advanced, research-backed electricity solutions. The parent company Dongguan Begode Intelligent Technology Co., Ltd. was founded in 2014 and now deals in a series of modern electric vehicles, including e-Unicycles, electric skateboards, electric scooters, and so on.
Gotway unicycles and products are used all over the world. In the USA and Canada, FreeMotionShop is the authorized online reseller for Gotway products. Here are the best electric unicycles (EUC) in 2020 by Gotway.
BEGODE-GOTWAY RS
Gotway RS is the latest version of the most popular unicycle by the Gotway brand, which is MSP (MSuper Pro). This is the unicycle we had all been waiting for. The ultimate "RS" unicycle offers a lot of improvements over its predecessor, including bigger pedals, new double T6 LED lights, two USB ports, and new 35W Bluetooth speakers, among others.
The Gotway RS unicycle will be initially available in two motor variants – High Torque Motor, and High Speed Motor. As it sounds, the high-torque motor offers more torque, while the high-speed motor gives out a higher maximum speed (60+ km/h or 37+ mph). Both variants will have the same 1800Wh 100V 21700 LG M50T battery with a maximum range of 110 km (62 miles).
GOTWAY EX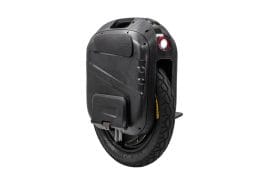 Gotway's EX has been launched as a direct competitor to the likes of Kingsong S18 and InMotion V11. No need to mention that it's a performance-centric wheel designed for those looking to do more than just commute with their electric unicycle.
Thanks to the 3500W huge motor, the Gotway Ex can deliver a top speed of up to 68km/h (42mph). The large 2700Wh battery can keep the vehicle running for up to 150km (93 miles) without needing a charge. Other top features include built-in dual suspension, high load capacity, 20-inch air tube tire, dual (front + rear) electronic brakes, LED front & rear lights, and app connectivity.
GOTWAY MONSTER PRO
The unicycle with the biggest battery of 2020 is here. The Gotway Monster Pro features an ultra-large 3600Wh battery capable of delivering a maximum range of up to 250km (155 miles) per charge.
The unicycle overcomes the competition in almost every field. It has a 3500W category-best motor with up to 68km/h (42mph) top speed, a 24-inch large wheel ideal for off-road conditions, and built-in suspension, among other things.

Best of Kingsong One Wheel Scooter
KingSong is another popular manufacturer of one-wheel/ two-wheel electric vehicles, including unicycles, scooters, and others. It's a subsidiary of Kingsong Intell Tech Co., LTD and headquartered in Shenzhen, China. The company reportedly exports advanced electric vehicles to over 50 countries.
KingSong KS-S18
The KS-S18 is the best electric unicycle created so far by the Kingsong brand. It's a performance-centric vehicle, giving direct competition to InMotion V11 and similar options in the market.
The KS-S18 unicycle features a 2200W motor that can deliver a peak torque of 140Nm. The motor is designed to offer the highest acceleration and a top speed of up to 50km/h (31mph). It can support a max climbing angle of 40°. The 18-inch 1-wheel of the unicycle ensures a smooth ride experience in both road and off-road conditions.
It has been fixed with an 1110Wh battery with BMS that can deliver a maximum range of 44.5 miles (71.2 km). The unicycle also comes with a built-in Variable Linkage Air Dampening Suspension System with 200-57 suspension.
The sporty design of the KS-S18 features intelligent headlights with automatic sensors, large pedals, and more.
Other popular e-Unicycle options from the KingSong brand that you can consider are KS-18XL, 14S, KS-16S, and KS-16X.

Best of InMotion One Wheel Scooter
INMOTION is a leading manufacturer of robots, sensor-controlled vehicles, and electric vehicles. Headquartered in Shenzhen, China, the company is involved in the research & development of the most technologically advanced mobility solutions based on electric power.
INMOTION V11
The InMotion V11 is the latest in the series of high-end, performance-driven electric vehicles by the Chinese manufacturer. Touted as the King of Offroad, this is a powerful 1-wheel scooter that comes with a 2200W motor, a 1500Wh battery, and many other category-best features, including a built-in adjustable air suspension.
The unicycle has been designed with performance in mind and can deliver a top speed of 31.25 mph (50 km) and offers a maximum range of up to 120 km (75 miles) to the rider.
In addition, it provides 35° climbing angle support, has an 18-inch off-road tire with best-in-class suspension, anti-spinning design, extra large anti-slippery pedals, built-in stand, trolley handle, dual charging ports for quick charging, cooling system, daylight coupled with a bright central headlight and a brighter taillight.
INMOTION V10F
In a slightly lower price range, you can consider buying the V10F electric unicycle which has almost similar features as the V11, along with customizable LED lights all over the body.
Where to Buy?
For the best, lowest price of any electric one-wheel self-balancing unicycle in the market, check the FreeMotionShop.com website. We sell all the latest models of all major electric unicycle brands and provide free delivery across the USA and Canada.
To explore the range of best one-wheel scooters in 2020, visit the website.
Do you want to read more about the best Electric Unicycles of the year? Check out these articles.