As a trusted dealer of the Gotway brand's electric unicycles in Canada and the USA, FreeMotion is excited to announce that three more Gotway Unicycles have been launched and added to the FreeMotion online store.
These three Unicycles are namely Gotway EX, Begode-Gotway RS, and Gotway Monster Pro Electric Unicycle. GotWay is a manufacturer of electric unicycles (EUCs), best known for providing safe distance rides and robust portable design.
3 Next-Gen Gotway Electric Unicycles For 2021
As all three self-balancing one-wheel electric scooters are listed on the official FreeMotion website, their complete specification and promising features are now available there.
Gotway EX

Thus as per the official website, Gotway EX Electric Unicycle features a 20-inch wheel, 100V/1800Wh LG M50T 21700 battery, 2500W Hollow motor, 100~6000 lumen headlight, 2 stereo Speakers, and dedicated app.
Gotway EX can easily reach speeds Up to 40 Mph or 64 Km H and can handle the weight of around 130 Kg (286 Lbs). As per details available on the website, the max climb angle is 25 degrees. Gotway EX weighs 38 Kg (83.6 Lbs) and measures 615X510X60mm (HxLxW) when the footrests are unfolded.
Gotway EX takes 9hrs of charging time if the input is 100V/3A however it also features a 2A output USB to charge other devices. It not only has a bigger battery but it also has 20A short circuit protection that will keep the battery alive for a longer time period.
This electric scooter can go up to 130 km 80 miles after a single full charge, thus it is a reliable eco-friendly product that will convert your normal ride into an adventure one.
This electric unicycle also has an Air-spring suspension to make the ride smooth and well-balanced. And powerful headlight and Brake lights will make things clear and secure even in low light.
With all these cool features and hardware specs the Gotway EX seems a solid, safe, and reliable modern-day electric unicycle.
Gotway RS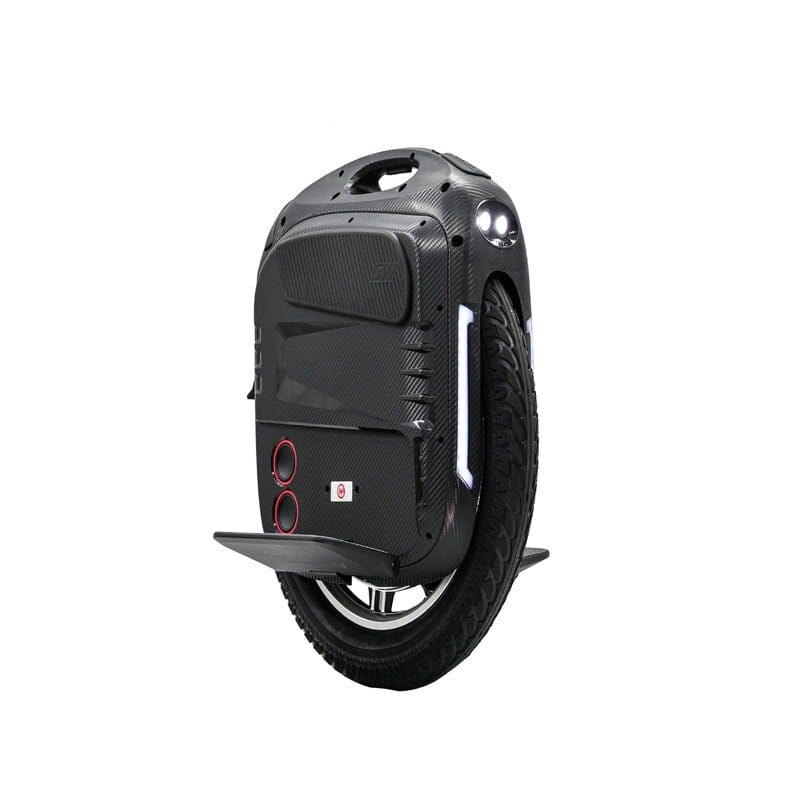 Coming up next, Gotway RS is the good-looking and lighter electric unicycle from Gotway, RS weighs just 27 kg (59.5 lbs) and houses extra-wide 19-inch wheels with a built-in hollow 2600W motor. Additional specs are a 100V/1800Wh Battery, Handy Customization, Under-handle Lift Button, Dual-input Charge Ports, and a powerful 6000Lm headlamp.
Recently added, the Gotway RS Electric Unicycle is capable of handling a maximum load of 147 Kg (325 Lbs) and can reach Up to 40 mph (64 km/h) very easily. With sufficient hill-climbing power, the Gotway RS takes <1.5 hrs to 80% charge. Also, a full charge can take riders on this modern electric unicycle Up to 60 Miles equal to 96 Km.
It is the fastest electric unicycle compared to other 19-inch unicycles. It is perfectly designed for casual riders who want a compact but powerful electric unicycle. Gotway RS is slim and is almost half-weight compared to others in the segment.
Gotway Monster Pro
As the name suggests the Gotway Monster Pro electric Unicycle is truly a monster of the road. It is powerful, and robust, has a lot of exciting features, and goes up from 50 Mph, to 80 Kph very easily.
Gotway Monster Pro electric Unicycle features 24-Inch Wheel, 3500W Hollow motor, 100~6000 lumen extra-bright headlight, 3600wh/100V LG M50T 21700 battery, Dual charging ports, brake, and sidelight.
This electric Unicycle also comes with some cool features such as an Anti-spin function, 20A short circuit protection,2 Stereo Speakers, Bluetooth connectivity, and a dedicated app.
There are a few unicycles with an Anti-spin function in it, with it the motor will stop when you hold the handle and lift the wheel. The Monster Pro measures as follows: 680mm x 610mm x 500mm (HxLxW) when unfolded and 680mm x 610mm x 260mm (HxLxW) when the footrests are folded in.
The Monster Pro weighs around 39 Kg (85.8 Lbs) and the maximum load it can handle is 130 Kg (286 Lbs). The Max Climb Angle of this electric unicycle is 20-degree and it has been tested and proved to be accurate with a 90kg rider.
It takes 12 hours to get fully charged With a 100V/3A supply and it also features 2A output through USB. Additionally, Using the APP, the horizontal level or any footrest angle can be adjusted at your choice. It has 2 Stereo speakers and Bluetooth connectivity thus you can also enjoy your favorite tracks while riding.
Finally, the max range of this electric unicycle is 120 miles or 200 km. It is not just a girthy one it is a performance-oriented powerhouse.
The Monster Pro comes with various top-level safety features that not only keep the rider informed and safe but also protect the electric unicycle itself. The Gotway Monster Pro houses a very effective beep system to alert riders about any problem.
Along with the beep system, this unicycle will automatically shut off to keep the rider safe when the wheel is leaning at a 35-degree angle from a forward to backward direction, or even a 45-degree tilt from the left or right.
PRODUCT COMPARISON REPORT – GOTWAY RS VS. GOTWAY MONSTER PRO VS. GOTWAY EX
| | | | |
| --- | --- | --- | --- |
| | GOTWAY RS | GOTWAY MONSTER PRO | GOTWAY EX |
| SPEED | Up to 40 Mph, Up to 64 Kmh | Up to 50 Mph, Up to 80 Kmp | Up to 40 Mph, Up to 64 Kmh |
| RANGE | Up to 60 miles, Up to 96 Km | 120 miles, 200 km | 130 km, 80 miles |
| WHEEL SIZE | 19-inch | 24-Inch | 20-Inch |
| CHARGING TIME | 6 h | 12h With 100V/3A | 9h With 100V/3A |
| MAX LOAD | 147.7 Kg, 325 lbs | 130 Kg, 286 Lbs | 130 Kg, 286 Lbs |
| BATTERY | 100V/1800Wh LG M50T 21700 | 3600wh/100V LG M50T 21700 | 100V/1800Wh LG M50T 21700 |
The specifications and features of all three electric unicycles from GotWay give the perfect idea about the targeted user base. The Gotway RS will target the casual rider with a slim, lightweight powerful form factor, whereas the Gotway Monster Pro Electric Unicycle is clearly for the hardcore passionate Unicycle User who wants something that fulfils all the requirements.
The first one Gotway EX electric unicycle is for almost everyone. It is a mid-weight powerful electric unicycle that is ready to impress almost everyone.
All three unicycles namely Gotway EX, Gotway RS, and Gotway Monster Pro Electric Unicycles are available at the FreeMotion online store at a very reasonable cost and some additional benefits such as warranty, discounts, gifts, and support services. People who are willing to buy performance-oriented reliable electric unicycles can get more information and links to place orders at freemotionshop.com.
Do you want to read more about next-gen electric unicycles and scooters? Check out these articles.